Being an active participant in many health and fitness research studies, Health Reviser continues to support its commitment to bring the most innovative technologies into the wellness world. Following the successful partnership, Health Reviser and FitPal technologies will go hand in hand contributing to people's wellness.
  Health Reviser, developer of health and fitness monitoring applications, announced today that it has acquired FitPal, creator of the innovative mobile apps and services which p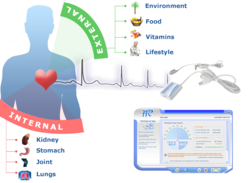 romotes safe and effective fitness. The acquisition will enable Health Reviser to add the latest fitness technologies to their portfolio of health and stress monitoring apps.
Health Reviser is one of the most dedicated and passionate health research and development companies around the world. Its goal is to bring simple and affordable health, fitness and stress management solutions directly to end consumers and wellness businesses.
"The future of simple and non-invasive health monitoring, fitness assessment and stress management starts with preventive heart rate variability analysis, a technology that scans autonomic nervous system and reveals health conditions before any symptoms occur," said Alexander Bandarchuk, Health Reviser CEO. "Consumers can now use their cell phones or computers to access Health Reviser products to monitor their health, biological age, fitness and stress levels. They can see the instant changes in their health, caused by the lifestyle change, diet or exercises. Viewing health trends on the computer screen and taking an early action is far better than feeling the pain and poisoning the body with chemicals, when it's already too late."
"Technologies are playing an important role in helping people improve their health and fitness by providing a visual link to feedback from the body. Before only pain warranted a visit to the doctor's office, or serves as a reminder for an annual checkup. Now computers notify us of slight changes to our health on a daily basis that can be caused by anything, including diseases that are progressing in weeks or even days" concluded Alexander.
Health Reviser's applications implement short-term heart rate variability analysis to assess body age, overall health and fitness dynamics. It is being widely used around the world. Product comprehensive normative database containing the results of thousands of individuals of different ages and genders is used for analysis of the pulse wave monitor data captured from the body.